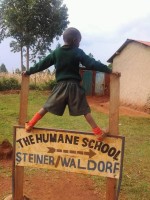 The Humane School, a school which want to educate children for the future, teaching them skills in arts, craft and music along with the academic skills. The school uses the worldwide Steiner/Waldorf curriculum, and give thereby high quality education in a traditional farming society in the village Maili Saba, in western Kenya.
The school has 100 students today, and the teachers are undergoing the education to become licensed Steiner/ Waldorf teachers. The school started in 2008, so this year, 2019 we have the third class to sit for the Kenyan National Exam in class 8. The classes sitting for the exam the two previous years have been doing very well!
The school focus on teaching the children organic farming for a sustainable farming in the future.
The school is mainly financed from Sweden by Föreningen Sofia.
International Fundraising event going on to raise 16500€ towards buying land for the Humane School: www.gofundme.com/build-the-humane-school

Skilleby Höstmarknad 8th Sept in Järna, Sweden

Class 8 in the Humane School sitting for the KCPE exam in Nov -19

Sofia Galan 17th November in Järna, Sweden