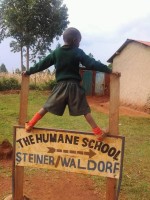 The Humane School, a school which want to educate children for the future, teaching them skills in arts, craft and music along with the academic skills. The school uses the worldwide Steiner/Waldorf curriculum, and give thereby high quality education in a traditional farming society in the village Maili Saba, in western Kenya.
The school has 100 students today, and the teachers are undergoing the education to become licensed Steiner/ Waldorf teachers. The school started in 2008.
The classes sitting for the Kenyan Certificate of exam the two previous years have been doing very well!
The school focus on teaching the children organic farming for a sustainable farming in the future.
The school is mainly financed from Sweden by Föreningen Sofia.
International Fundraising event going on to raise 14700€ towards buying land for the Humane School: www.gofundme.com/build-the-humane-school

Due to Corona pandemic the school is now closed. The kindergarten will reopen in January 2021 or when the government allowes.

The plans for the new school building are being drawn by the help of volunteers at Architects without borders.

The school community are planning for the farm.