The Humane School gives quality education to children in the countryside of Kenya! They learn organic farming as well as learning to read and write, alongside with arts, music and movement through the Steiner/Waldorf curriculum. This school is financed by sponsors abroad.
The children are getting a healthy school lunch to improve their health and learning abilities.
A parent at the school said: "First I thought the children are only playing in the school, but now I see that the school is building the children from inside so that they learn better!"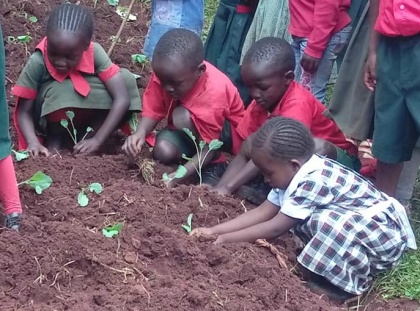 Thanks to private sponsors in Sweden and Germany the Humane School now owns land and the school is safe to develop- ALMOST!
We managed to buy half of the land available, and that is enough for to build the school- BUT!
We want to run an organic farm at the Humane School to teach the children and the school community about a sustainable future where the farmers will be aware that they pollute the environment and kill the pollinators when they use pesticides, and show them that it is possible to grow high quality food without chemical fertilizers! For that purpose we need the other half of the available land.


We can buy the other piece of the land! But we need to raise the money before December 2021! Please help the Humane School to pursuit it's efforts to fight poverty, give good food and sustainable farming and quality education to the children of Humane School! To give a donation follow this link: https://www.gofundme.com/-build-the-humane-school